Foo Fighters Biography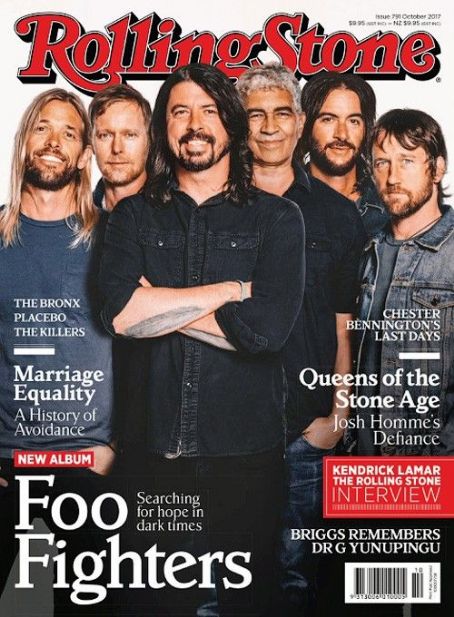 ---
---
Rock group
Group formed in 1995; members include William Goldsmith (left band, March, 1997), drums; David Grohl (born January 14, 1969, in Warren, OH; son of James and Virginia Grohl; married Jennifer Youngblood, c. 1994 [divorced, 1997]; married Jordyn Blum, 2003), guitar, vocals; Taylor Hawkins (born Oliver Taylor Hawkins, February 17, 1972, in Laguna Beach, CA; joined band, 1997), drums; Nate Mendel (born December 2, 1968; children: one son), bass; Chris Shiflett (born Christopher Shiflett, May 6, 1971, in Santa Barbara, CA; married; children: Liam; joined band, 1999), guitar; Pat Smear (born Georg Ruthenberg, August 5, 1959, in Los Angeles, CA; left band, 1997), guitar; Franz Stahl (joined band, 1997; left band, 1999), guitar.
Addresses: Record company —RCA Records, 1540 Broadway, New York, NY 10036. Website —http:// www.foofighters.com.
Career
Grohl was a member of the bands Nirvana, Scream, Dain Bramage, Freakbaby, and Mission Impossible; as a solo artist he recorded an album, playing all instruments; released Foo Fighters on Roswell/Capitol, 1995; Grohl recruited band members for a tour, 1995; Smear was a founding member of the Germs; Goldsmith and Mendel were former members of Sunny Day Real Estate, and Mendel was earlier a founder of Product of Rape and Christ on a Crutch; Hawkins spent 1995 and 1996 touring as Alanis Morissette's drummer; Shiflett was a member of No Use For A Name and Me First … the Gimmie Gimmies; recorded first album
as a group, The Colour and the Shape , 1997; released There Is Nothing Left To Lose , 1999; toured with Red Hot Chili Peppers, 2000; released One By One , 2002; toured worldwide, 2002-03; released In Your Honor , 2005; toured United States and Europe, 2005-06.
Awards: Video Music Award for best group video, MTV, for "Big Me, " 1996; Grammy Award for best short form music video, Recording Academy, for "Learn To Fly, " 2001; Grammy Award for best rock album, Recording Academy, for There Is Nothing Left To Lose , 2001; Grammy Award for best hard rock performance, Recording Academy, for "All My Life, " 2003; Grammy Award for best rock album, Recording Academy, for One By One , 2004.
Sidelights
Although the Foo Fighters came out of the ashes of the same fire that incinerated the grunge rock scene, their sound more closely resembles popular, less hard-hitting rock groups. Led by Dave Grohl, the former drummer for Nirvana, the Foo Fighters rely on simple, energetic pop-rock tunes to get their point across. Although there was a lot of turnover in the band initially, the band finally formed a cohesive group after a few album releases.
Grohl grew up in Washington, D.C., the son of a single working mother. Too poor to buy a record player, Grohl listened to his Minor Threat and Bad Brains albums on a record player borrowed from the public school where his mother taught English. Moreover, he did not even possess his own drum kit when he started playing with DC hardcore bands like Dain Bramage, Freakbaby, and Mission Impossible. By the time he was 17, Grohl had joined a lauded punk ensemble called Scream, leaving high school before completing his senior year when the opportunity to tour Europe arose.
After Scream disbanded in 1990, a friend (Buzz Os-bourne of the Melvins) put Grohl in touch with an up-and-coming Seattle band in need of a drummer. Grohl joined Kurt Cobain and Krist Novoselic in Nirvana in the fall of 1990, and a year later he was part of one of the biggest phenomenons in rock history. With a slew of successful releases and album sales in the tens of millions, Nirvana built a bridge between punk and rock. That winning streak ended in April of 1994 when Cobain committed suicide, a subject Grohl has been reluctant to discuss. He does confess to still being haunted by his friend's death. "It's hard not to think about something that everybody wants to talk about all the time, " he told Mike Rubin in Spin.
After the dissolution of Nirvana, Grohl toyed with the idea of joining Tom Petty and the Heartbreakers and toured with them for a time. But instead, Grohl went into a recording studio by himself and began starting to tape a couple dozen of the songs he had written over several years. His only help came from his friend Barrett Jones, who produced the album, and Greg Dulli of the Afghan Whigs, who played guitar on one song. The result was 1995's Foo Fighters , which was also the name of Grohl's memberless band. (The name originated from unidentified flying objects [UFOs] encountered by the U.S. Army Air Force near the end of World War II; the UFOs were called "Foo Fighters" or "Kraut Balls" by those who believed the objects were a secret German weapon.) The debut was released on Roswell Records, a vanity label which Capitol Records had given Grohl, named after the famed New Mexico site on which some believe extraterrestrials crash-landed in 1947.
Grohl assembled a band in order to go out on the road in support of the record, which was receiving a healthy advance buzz. His first pick was Pat Smear, a beloved eccentric who had been a founding member of the Germs, the first Los Angeles punk band to record an entire album. Smear, facing hard times financially, had made ends meet by playing punk rocker roles on television during the 1980s, as well as adding some verve to the last days of Nirvana. Joining Smear and Grohl in the Foo Fighters line-up were two members of a much-lauded and recently disbanded Seattle act, Sunny Day Real Estate. Drummer William Goldsmith and bass player Nate Mendel found themselves adrift after Sunny Day Real Estate's lead singer had become a fervent born-again Christian.
The Foo Fighters toured as an opening act for Mike Watt in the spring of 1995. However, the band was headlining after only a few months as record sales took off. Critics often made much of the odd, abstruse lyrics in songs like "Big Me" and "This Is a Call." Given Grohl's ties to Nirvana, reviewers looked for hidden meanings everywhere, but he later admitted they were purposefully nonsensical. "It was for fear of writing something that might reveal too much, " Grohl told Spin 's Rubin, "or actually reveal something at all.… I don't want to let everyone else in on my problems or my personal crisis or my misery. They're mine." He also pointed out that many of the songs had been written long before Nirvana became famous.
The Foo Fighters also exhibit a decidedly nongrunge demeanor on stage, in their playing, and in interviews. They shot a video for "Big Me" that spoofed the silly Mentos commercials and then were pelted by the candies at shows for months. The video went on to win the award for Best Group Video at the MTV Video Music Awards in 1996. As the Foo Fighters record issued one well-charting single after another, and they toured for more than a year-and-a-half, the band grew increasingly reticent about the fame that came with their success. "There does come a point where it's totally out of your control, " Grohl told Rolling Stone 's Chris Mundy, "but I learned a lot of lessons from Nirvana. We don't want to spend too much time whoring ourselves around because not only does it make everyone else sick of you, eventually you get sick of yourself."
While Grohl appreciates his privacy, Smear appeared well-suited for the limelight. The guitarist, who loves to wear dresses and often outfitted himself in outlandish stage gear, began appearing on MTV's House of Style. Despite the band's success and popularity, Goldsmith left the Foo Fighters' vaulted orbit after a falling-out with Grohl. In recording their second album, Grohl expressed dissatisfaction with Goldsmith and re-recorded the drum parts himself. He was replaced by Taylor Hawkins, the former drummer for Alanis Morissette's world tour, after the Foo Fighters record was completed in early 1997.
The double album The Colour and the Shape was recorded in both Los Angeles and Seattle with Gil Norton as producer. Released in May of 1997 on Roswell, it took a slightly different path away from the light power-pop mood of Grohl's first record. This was a concept album, and its subject was the death of a relationship. Not surprisingly, Grohl's marriage to his high-school sweetheart dissolved around the time of the record's release. The songs sounded the same as the previous release, but the lyrics were suddenly trenchant—a marked contrast to the tracks on their debut. The Foo Fighters' development as a band, wrote Entertainment Weekly 's David Browne, "is clearly evident throughout The Colour and the Shape , but it isn't always a pretty sight or sound."
Though its subject matter was definitely more weighty, Grohl's penchant for building songs along the soft-verse/rocking-chorus structure hadn't changed on cuts like the first single, "Monkey Wrench." Chuck Crisafulli of Request noted that "Grohl is turning out to be something of a master builder when it comes to constructing pop hooks, " and the musician admitted to loving pure pop music like Abba, as well as punk rock bands. As Spin 's Rubin pointed out, "Foo tunes are more hummers than bummers." Christina Kelly, reviewing The Colour and the Shape for Rolling Stone , asserted the record "has a big, radio-ready, modern-rock sound." In the New York Times , Jon Pareles opined that "timing, ingenuity, and conviction can be all it takes to make rock's common materials ring with passion. That's what happens on The Colour and the Shape , as Grohl balances power and tenderness, whipsaw riffing and wistful tunes."
The Foo Fighters embarked on another lengthy tour for The Colour and the Shape , and Grohl directed his first video for the "Monkey Wrench" single, an assignment that grew out of his penchant for amateur film making. At the 1997 MTV Music Video Awards, Smear announced he was leaving the group; he was replaced by guitarist Franz Stahl. However, Stahl was not a member for long; the group's 1999 album, There Is Nothing Left To Lose , was recorded as a three-piece. The album was recorded in Grohl's home shortly after the band left Capitol. The group signed with RCA and set off on a few club dates to break in its newest member, guitarist Chris Shiflett, who replaced Stahl. Grohl wrote the album's first single, "Learn to Fly, " about his fear of flying. "Being afraid of flying isn't convenient when you are a band that seems to take two planes a day, " Mendel told Billboard 's Carrie Bell. Instead, Grohl decided to learn about how planes stay in the air to get over his fear; the song is about that learning process. The album's variety of song styles "reveal a sensitive streak that meshes nicely with Grohl's more aggressive inclinations, " wrote Entertainment Weekly 's Scott Schinder.
After touring in 2000, the Foo Fighters began working on an album in October of that next year, but after working on it for three and a half months, the group realized that things were not clicking. "It didn't feel right. With our band, the most important thing is that the songs feel right and the recordings feel good.… Spontaneity and energy have a lot to do with rock, and rock records shouldn't take that long, " Grohl told Billboard 's Andrew Katchen. To help spark their creativity, the band members went their separate ways for a short time. Grohl worked with the hard rock band Queens of the Stone Age, contributed to Tony Iommi's 2000 solo album, and created a death-metal compilation called Probot (he played all the instruments and had guest singers); Shiflett returned to his pre-Foo Fighters band, Me First … the Gimmie Gimmies; Hawkins worked on songs in his home studio, and Mendel recorded with the Fire Theft. "We'd never taken a substantial break, " Grohl told Katchen. "It only made sense that after seven or eight years we do that—to step back and look at the big picture, especially when you're lost in the process of making a new album that seems like it's going nowhere." After taking a breather, Grohl and Hawkins reworked the album's tracks and then had Shiflett and Mendel record their parts; the second version of the album was completed in about two weeks.
Of the finished album, titled One By One, Billboard 's Katchen remarked that there was a shift in the band's sound and that the group's "current agenda [is] to kick out visceral, driving jams that are big on volume, speed, and airtight drum and guitar salvos throughout." Declaring that listening to the album resulted in "unexpected exhilaration, " Entertainment Weekly 's Ken Tucker stated that the songs' "near-constant exploration of various relationships—those between lovers, or friends, or Foos-to-their-fans— never" got tiresome. In 2003, the song "All My Life" from the album won the Grammy Award for Best Hard Rock Performance. That next year, One By One won a Grammy Award for Best Rock Album.
Grohl continued to keep busy with projects outside the group, including playing drums on Killing Joke's self-titled 2003 album. "The great thing about being a musician is being free to jam with other musicians, and as with any musician you learn from each other, " Grohl told Gary Graff of United Press International. It was three years before the public saw another release from the Foo Fighters. In Your Honor , released in 2005, was a two-disc set. When Grohl began writing the music for the album, he planned on doing it as a solo project, envisioning a film score which then evolved into acoustic songs. However, realizing the resulting material had a Foo Fighters-type sound, he called his bandmates in to contribute. However, Grohl told Billboard 's Melinda Newman that the group "couldn't live without rock 'n roll, " so it became a double album. The first disc featured hard-driving tunes and the second disc showcased a more "atmospheric, acoustic-guitar-driven affair marked by movie-score string arrangements and mandolins, " wrote Scott Galupo in the Washington Times. All Music Guide 's Stephen Thomas Erlewine declared that the risk of creating such an album paid off: "By stretching out, the Foo Fighters not only have expanded their sound, but they've found the core of why their music works, so they now have better songs and deliver them more effectively." In support of the album, the band began a U.S. tour in the fall of 2005 which then moved to Europe in 2006. The album was nominated for five Grammy Awards, including one for Best Rock Album.
Besides their Foo Fighters recording and touring, the band members continued to work on side projects. Grohl was still involved with Queens of the Stone Age and did some drumming for Nine Inch Nails, Hawkins worked with former Jane's Addiction bassist Chris Chaney on a glam-prog album scheduled for 2006 release, Shiflett's punk group, Jackson United, released an album in 2005 and toured the United Kingdom that summer, and Mendel continued working with Fire Theft and another band called Ghost Wars. The Foo Fighters regrouped on September 9, 2005, to participate in the nationally televised Shelter From the Storm: A Concert for the Gulf Coast , which was broadcast on ABC, CBS, FOX, NBC, The WB, and UPN to raise funds for people affected by the effects of Hurricane Katrina.
Grohl avoids licensing the Foo Fighters' music for advertising (aside from one Japanese beer ad). "It kind of breaks my heart when I hear a classic song that changed my life in a car commercial, " he told Billboard 's Newman. "Integrity means a lot to me. Thetiny shred that we've maintained over the last ten years, I guard with my life." Grohl remains the definitive anti-grunge poster boy. "I've covered a lot of ground, but I still feel like a pathetic 17-year-old dropout, " Grohl told Spin. "My spirit is still young." As for those fans who may be concerned about the end of the Foo Fighters, Grohl told Entertainment Weekly 's Leah Greenblatt, "I've been traveling around the world since I was 18, and after every record I always think, Okay, after this I'm going to get on with real life and start a family and get fat and bald and do all the things most everyone does after they're finished running around. But, I don't think I'm finished running around yet."
Selected discography
Foo Fighters , Roswell/Capitol, 1995.
The Colour and the Shape , Roswell/Capitol, 1997.
There Is Nothing Left To Lose , Roswell/RCA, 1999.
One By One , Roswell/RCA, 2002.
In Your Honor , Roswell/RCA, 2005.
Sources
Periodicals
Alternative Press , June 1997.
Amusement Business , February 2000, p. 7.
Billboard , May 3, 1997; May 17, 1997; October 16, 1999, p. 14; November 27, 1999, p. 83; October 19, 2002, p. 10; June 11, 2005, p. 43.
Entertainment Weekly , May 9, 1997, p. 38; May 23, 1997, p. 62; November 5, 1999, p. 82; October 25, 2002, p. L2T8; October 25, 2002, p. 75; June 17, 2005, p. L2T8.
Guitar World , July 1997.
New York Times , May 18, 1997.
Request , July 1997.
Rolling Stone , October 5, 1995; March 21, 1996; May 29, 1997.
Spin , July 1997.
United Press International, May 27, 2003.
Us , July 1997.
Washington Times , June 14, 2005, p. B5; Oct 12, 2005, p. B5.
Online
Grammy.com, http://www.grammy.com/awards/ (January 4, 2006).
"In Your Honor, " All Music Guide , http://www.allmusic.com (January 4, 2006).
Official Foo Fighters, http://www.foofighters.com (January 4, 2006).
Read more: http://www.notablebiographies.com/newsmakers2/2006-Ei-La/Foo-Fighters.html#ixzz5PuhHX63G
* quoted from http://www.notablebiographies.com/
Ind.translt ——————————————-
Grup rock
Grup dibentuk pada tahun 1995; anggota termasuk William Goldsmith (band kiri, Maret, 1997), drum; David Grohl (lahir 14 Januari 1969, di Warren, OH; putra James dan Virginia Grohl; menikahi Jennifer Youngblood, c. 1994 [bercerai, 1997]; menikah dengan Jordyn Blum, 2003), gitar, vokal; Taylor Hawkins (lahir Oliver Taylor Hawkins, 17 Februari 1972, di Laguna Beach, CA; bergabung dengan band, 1997), drum; Nate Mendel (lahir 2 Desember 1968; anak-anak: satu anak laki-laki), bas; Chris Shiflett (lahir Christopher Shiflett, 6 Mei 1971, di Santa Barbara, CA; menikah; anak-anak: Liam; bergabung dengan band, 1999), gitar; Pat Smear(lahir Georg Ruthenberg, 5 Agustus 1959, di Los Angeles, CA; band kiri, 1997), gitar; Franz Stahl (bergabung dengan band, 1997; band kiri, 1999), gitar.
Alamat: Rekam perusahaan —RCA Records, 1540 Broadway, New York, NY 10036. Situs web —http: // www.foofighters.com.
Karier
Grohl adalah anggota band Nirvana, Scream, Dain Bramage, Freakbaby, dan Mission Impossible; sebagai artis solo ia merekam album, memainkan semua instrumen; merilis Foo Fighters di Roswell / Capitol, 1995; Grohl merekrut anggota band untuk tur, 1995; Smear adalah anggota pendiri Kuman; Goldsmith dan Mendel adalah mantan anggota Sunny Day Real Estate , dan Mendel sebelumnya adalah pendiri Produk Rape dan Christ on a Crutch; Hawkins menghabiskan tahun 1995 dan 1996 tur sebagai drummer Alanis Morissette; Shiflett adalah anggota No Use For A Name dan Me First… Gimmie Gimmies; merekam album pertama
sebagai kelompok, The Colour and the Shape , 1997; dirilis Tidak Ada yang Dibiarkan Kalah , 1999; melakukan tur bersama Red Hot Chili Peppers, 2000; dirilis Satu Per Satu , 2002; melakukan tur di seluruh dunia, 2002-03; dirilis In Your Honor , 2005; melakukan tur Amerika Serikat dan Eropa, 2005-06.
Penghargaan: Video Music Award untuk video grup terbaik, MTV, untuk "Big Me," 1996; Grammy Award untuk video musik singkat terbaik, Recording Academy, untuk "Learn To Fly," 2001; Grammy Award untuk album rock terbaik, Recording Academy, karena Tidak Ada yang Dibiarkan Untuk Dibuang , 2001; Grammy Award untuk penampilan hard rock terbaik, Recording Academy, untuk "All My Life," 2003; Grammy Award untuk album rock terbaik, Recording Academy, untuk One By One , 2004.
Sidelights
Meskipun Foo Fighters keluar dari abu api yang sama yang membakar scene rock grunge, suara mereka lebih mirip dengan grup rock yang populer, yang kurang keras memukul. Dipimpin oleh Dave Grohl, mantan drummer untuk Nirvana, Foo Fighters mengandalkan musik pop-rock yang sederhana dan energetik untuk menyampaikan pendapat mereka. Meskipun ada banyak pergantian di band awalnya, band ini akhirnya membentuk kelompok yang kohesif setelah beberapa rilis album.
Grohl dibesarkan di Washington, DC, putra seorang ibu tunggal yang bekerja. Terlalu miskin untuk membeli pemutar rekaman, Grohl mendengarkan album Minor Threat dan Bad Brains miliknya pada pemutar rekaman yang dipinjam dari sekolah umum tempat ibunya mengajar bahasa Inggris. Selain itu, ia bahkan tidak memiliki drum kit sendiri ketika ia mulai bermain dengan band-band hardcore DC seperti Dain Bramage, Freakbaby, dan Mission Impossible. Pada saat dia berusia 17 tahun, Grohl telah bergabung dengan ansambel punk terpuji bernama Scream, meninggalkan sekolah tinggi sebelum menyelesaikan tahun seniornya ketika kesempatan untuk tur Eropa muncul.
Setelah Scream bubar pada tahun 1990, seorang teman (Buzz Os-bourne dari Melvins) menempatkan Grohl berhubungan dengan band Seattle yang sedang naik daun dan membutuhkan seorang drummer. Grohl bergabung dengan Kurt Cobain dan Krist Novoselic di Nirwana pada musim gugur 1990, dan setahun kemudian ia menjadi bagian dari salah satu fenomena terbesar dalam sejarah rock. Dengan banyaknya rilis yang sukses dan penjualan album dalam puluhan juta, Nirvana membangun jembatan antara punk dan rock. Kemenangan beruntun itu berakhir pada April 1994 ketika Cobain bunuh diri, sebuah subjek yang Grohl enggan mendiskusikannya. Dia mengaku masih dihantui oleh kematian temannya. "Sulit untuk tidak memikirkan sesuatu yang semua orang ingin bicarakan sepanjang waktu," katanya kepada Mike Rubin Berputar.
Setelah pembubaran Nirvana, Grohl bermain-main dengan gagasan bergabung dengan Tom Petty dan Heartbreakers dan melakukan tur bersama mereka untuk sementara waktu. Tapi sebaliknya, Grohl pergi ke studio rekaman sendiri dan mulai merekam beberapa lusin lagu yang telah ditulisnya selama beberapa tahun. Satu-satunya bantuannya datang dari temannya, Barrett Jones, yang memproduksi album, dan Greg Dulli dari Afghan Whig, yang memainkan gitar pada satu lagu. Hasilnya adalah Foo Fighters tahun 1995 , yang juga merupakan nama band tanpa anggota Grohl. (Nama ini berasal dari benda terbang tak dikenal [UFO] yang dihadapi oleh Angkatan Udara AS di dekat akhir Perang Dunia II; UFO disebut "Foo Fighters" atau "Kraut Balls" oleh orang-orang yang percaya bahwa benda itu adalah senjata rahasia Jerman .) Debut ini dirilis pada Roswell Records, label batil yang telah diberikan Capitol Records kepada Grohl, dinamai setelah situs New Mexico yang terkenal di mana beberapa orang percaya bahwa makhluk luar angkasa itu jatuh pada tahun 1947.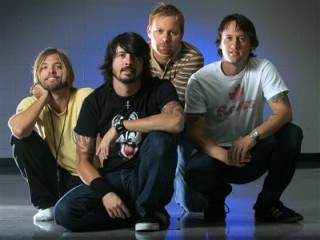 Grohl merakit sebuah band untuk pergi keluar di jalan untuk mendukung rekaman, yang menerima buzz muka yang sehat. Pilihan pertamanya adalah Pat Smear, seorang eksentrik tercinta yang pernah menjadi anggota pendiri Kuman, band punk Los Angeles pertama yang merekam seluruh album. Smear, menghadapi masa-masa sulit secara finansial, telah memenuhi kebutuhan dengan memainkan peran punk rocker di televisi selama tahun 1980-an, serta menambahkan beberapa semangat untuk hari-hari terakhir Nirvana. Bergabung dengan Smear dan Grohl dalam formasi Foo Fighters adalah dua anggota dari tindakan Seattle yang sangat terpuji dan baru-baru ini dibubarkan, Sunny Day Real Estate. Drummer William Goldsmith dan pemain bas Nate Mendel menemukan diri mereka terombang-ambing setelah penyanyi utama Sunny Day Real Estate telah menjadi orang Kristen yang dilahirkan kembali.
Foo Fighters melakukan tur sebagai pembuka untuk Mike Watt pada musim semi 1995. Namun, band ini menjadi headlining setelah hanya beberapa bulan setelah penjualan rekaman dimulai. Kritik sering membuat banyak lirik yang aneh dan muskil dalam lagu-lagu seperti "Big Me" dan "This Is a Call." Mengingat hubungan Grohl dengan Nirvana, peninjau mencari makna tersembunyi di mana-mana, tetapi dia kemudian mengakui bahwa mereka sengaja tidak masuk akal. "Itu karena takut menulis sesuatu yang mungkin mengungkapkan terlalu banyak," kata Grohl kepada Spin Rubin, "atau benar-benar mengungkapkan sesuatu. … Saya tidak ingin membiarkan orang lain masuk ke masalah saya atau krisis pribadi saya atau kesengsaraan saya. Mereka adalah milik saya." Dia juga menunjukkan bahwa banyak lagu telah ditulis jauh sebelum Nirvana menjadi terkenal.
Para Pejuang Foo juga menunjukkan sikap nongrunge yang jelas di atas panggung, dalam permainan mereka, dan dalam wawancara. Mereka merekam video untuk "Big Me" yang memalsukan iklan konyol Mentos dan kemudian dilempari oleh permen di acara selama berbulan-bulan. Video ini kemudian memenangkan penghargaan untuk Video Grup Terbaik di MTV Video Music Awards pada tahun 1996. Karena catatan Foo Fighters mengeluarkan satu lagu yang bagus satu demi satu, dan mereka melakukan tur selama lebih dari satu tahun setengah, band ini semakin kentara tentang ketenaran yang datang dengan kesuksesan mereka. "Memang ada titik di mana itu benar-benar di luar kendali Anda," kata Grohl kepada Rolling Stone Chris Mundy, "tetapi saya belajar banyak pelajaran dari Nirvana. Kami tidak ingin menghabiskan terlalu banyak waktu untuk merawat diri karena tidak hanya membuat orang lain muak dengan Anda, akhirnya Anda menjadi bosan dengan diri sendiri."
Sementara Grohl menghargai privasinya, Smear tampak sangat cocok untuk pusat perhatian. Gitaris, yang suka mengenakan gaun dan sering melengkapi dirinya dalam perlengkapan panggung yang aneh, mulai muncul di MTV's House of Style. Terlepas dari kesuksesan dan popularitas band, Goldsmith meninggalkan orbit berkubah Foo Fighters setelah bertengkar dengan Grohl. Dalam rekaman album kedua mereka, Grohl menyatakan ketidakpuasan dengan Goldsmith dan merekam ulang bagian drumnya sendiri. Dia digantikan oleh Taylor Hawkins, mantan drummer untuk tur dunia Alanis Morissette, setelah catatan Foo Fighters selesai pada awal 1997.
Album ganda The Color and the Shape direkam di Los Angeles dan Seattle dengan Gil Norton sebagai produser. Dirilis pada Mei 1997 di Roswell, ia mengambil jalan yang sedikit berbeda jauh dari mood power-pop cahaya dari rekor pertama Grohl. Ini adalah album konsep, dan subjeknya adalah kematian sebuah hubungan. Tidak mengherankan, pernikahan Grohl dengan kekasihnya di sekolah menengah larut sekitar waktu rilis album. Lagu-lagu itu terdengar sama dengan rilis sebelumnya, tetapi liriknya tiba-tiba tajam — kontras dengan lagu-lagu pada debut mereka. Pengembangan Foo Fighters sebagai band, menulis Entertainment Weekly "David Browne," jelas terlihat di seluruh The Color and the Shape , tetapi itu tidak selalu merupakan pemandangan atau suara yang indah. "
Meskipun materi pelajarannya pasti lebih berbobot, kegemaran Grohl untuk membangun lagu di sepanjang struktur chorus soft-bait / rocking tidak berubah pada pemotongan seperti single pertama, "Monkey Wrench." Chuck Crisafulli of Request mencatat bahwa "Grohl berubah menjadi sesuatu yang hebat dalam membangun kait pop," dan musisi itu mengaku mencintai musik pop murni seperti Abba, serta band punk rock. Sebagai spin 's Rubin menunjukkan, 'Foo lagu-lagu yang lebih hummers dari Kembar.' Christina Kelly, , menegaskan rekaman itu "memiliki suara radio modern yang besar, radio-ready." Di New York Times , Jon Pareles berpendapat bahwa "waktu, kecerdikan, dan keyakinan bisa menjadi semua yang diperlukan untuk membuat materi umum rock berdering dengan gairah. Itulah yang terjadi pada The Color and the Shape , karena Grohl menyeimbangkan kekuatan dan kelembutan, riffing dan lagu sedih. "
Foo Fighters memulai tur panjang lainnya untuk The Color and the Shape , dan Grohl mengarahkan video pertamanya untuk single "Monkey Wrench", sebuah penugasan yang tumbuh dari kegemarannya untuk pembuatan film amatir. Pada MTV Music Video Awards 1997, Smear mengumumkan ia meninggalkan grup; dia digantikan oleh gitaris Franz Stahl. Namun, Stahl bukanlah anggota lama; album grup tahun 1999, Tidak Ada yang Tersisa Untuk Kalah , direkam sebagai tiga bagian. Album ini direkam di rumah Grohl tak lama setelah band meninggalkan Capitol. Grup ditandatangani dengan RCAdan berangkat pada beberapa tanggal klub untuk istirahat di anggota terbarunya, gitaris Chris Shiflett, yang menggantikan Stahl. Grohl menulis single pertama album, "Learn to Fly," tentang ketakutannya terbang. "Menjadi takut terbang tidak nyaman ketika Anda adalah band yang tampaknya mengambil dua pesawat sehari," kata Mendel kepada Carrie Bell Billboard . Sebaliknya, Grohl memutuskan untuk belajar tentang bagaimana pesawat terbang di udara untuk mengatasi rasa takutnya; lagunya adalah tentang proses pembelajaran itu. Berbagai gaya lagu album ini "mengungkapkan corak sensitif yang berhubungan baik dengan kecenderungan Grohl yang lebih agresif," tulis Scott Schinder dari Entertainment Weekly .
Setelah melakukan tur pada tahun 2000, Foo Fighters mulai mengerjakan sebuah album pada bulan Oktober tahun berikutnya, tetapi setelah mengerjakannya selama tiga setengah bulan, kelompok tersebut menyadari bahwa ada hal-hal yang tidak diklik. "Itu tidak terasa benar. Dengan band kami, hal yang paling penting adalah lagu-lagu itu terasa pas dan rekamannya terasa menyenangkan … Spontanitas dan energi sangat terkait dengan rock, dan catatan rock tidak boleh terlalu lama, "Grohl memberi tahu Billboard Andrew Katchen. Untuk membantu membangkitkan kreativitas mereka, para anggota band berpisah untuk waktu yang singkat. Grohl bekerja dengan band hard rock Queens of the Stone Age, berkontribusi pada album solo Tony Iommi 2000,Probot (dia memainkan semua instrumen dan memiliki penyanyi tamu); Shiflett kembali ke band pra-Foo Fighters-nya, Me First… Gimmie Gimmies; Hawkins mengerjakan lagu-lagu di studio rumahnya, dan Mendel merekam dengan Fire Theft. "Kami tidak pernah mengambil istirahat yang substansial," kata Grohl kepada Katchen. "Itu hanya masuk akal bahwa setelah tujuh atau delapan tahun kami melakukan itu — untuk mundur dan melihat gambaran besar, terutama ketika Anda tersesat dalam proses pembuatan album baru yang sepertinya tidak akan kemana-mana." Setelah mengambil nafas, Grohl dan Hawkins mengatur ulang track album dan kemudian Shiflett dan Mendel merekam bagian mereka; versi kedua dari album ini selesai sekitar dua minggu.
Dari album yang sudah selesai, berjudul One By One, Billboard 's Katchen mengatakan bahwa ada pergeseran dalam suara band dan bahwa grup "agenda saat ini adalah untuk mengusir visceral, mengemudi macet yang besar pada volume, kecepatan, dan drum kedap udara dan gitar salvo di seluruh. " Mendeklarasikan bahwa mendengarkan album menghasilkan "kegembiraan yang tak terduga," Ken Tucker dari Entertainment Weekly menyatakan bahwa lagu-lagu "hampir-konstan mengeksplorasi berbagai hubungan — antara pecinta, atau teman, atau Foos-to-fans-mereka — tidak pernah "Melelahkan. Pada tahun 2003, lagu "All My Life" dari album memenangkan Grammy Award untuk Best Hard Rock Performance. Tahun depan itu, One By One memenangkan Grammy Award untuk Album Rock Terbaik.
Grohl terus sibuk dengan proyek di luar grup, termasuk bermain drum di album Killing Joke yang berjudul self-titled 2003. "Hal yang hebat tentang menjadi musisi adalah bebas untuk selai dengan musisi lain, dan seperti halnya musisi yang Anda pelajari dari satu sama lain," kata Grohl kepada Gary Graff dari United Press International. Itu tiga tahun sebelum publik melihat rilis lain dari Foo Fighters. In Your Honor , dirilis pada tahun 2005, adalah satu set dua disk. Ketika Grohl mulai menulis musik untuk album, ia berencana melakukannya sebagai proyek solo, membayangkan skor film yang kemudian berevolusi menjadi lagu akustik. Namun, menyadari materi yang dihasilkan memiliki suara tipe Foo Fighters, ia memanggil teman-teman bandnya untuk berkontribusi. Namun, Grohl mengatakan kepada Billboard 's Melinda Newman bahwa grup "tidak bisa hidup tanpa rock 'n roll," jadi itu menjadi album ganda. Disk pertama menampilkan lagu-lagu hard-driving dan disc kedua memamerkan lebih banyak "atmosfer, akustik-gitar-driven yang ditandai dengan pengaturan string dan mandolin film-skor," tulis Scott Galupo di Washington Times. Stephen Thomas Erlewine menyatakan bahwa risiko menciptakan album semacam itu terbayar: "Dengan melakukan peregangan, para Pejuang Foo tidak hanya telah memperluas suara mereka, tetapi mereka telah menemukan inti mengapa musik mereka bekerja, jadi mereka sekarang memiliki lebih baik lagu dan mengantarkan mereka lebih efektif. " Untuk mendukung album, band ini memulai tur AS pada musim gugur 2005 yang kemudian pindah ke Eropa pada tahun 2006. Album ini dinominasikan untuk lima Grammy Awards, termasuk satu untuk Best Rock Album.
Selain rekaman Foo Fighters dan tur, anggota band terus bekerja di proyek sampingan. Grohl masih terlibat dengan Queens of the Stone Age dan melakukan beberapa drum untuk Nine Inch Nails, Hawkins bekerja dengan mantan bassis Jane's Addiction Chris Chaney pada album glam-prog yang dijadwalkan untuk rilis 2006, grup punk Shiflett, Jackson United, merilis album di 2005 dan melakukan tur di Inggris pada musim panas itu, dan Mendel terus bekerja dengan Fire Theft dan band lain bernama Ghost Wars. Foo Fighters bergabung kembali pada 9 September 2005, untuk berpartisipasi dalam Shelter From The Storm yang disiarkan secara nasional : Konser untuk Pantai Teluk , yang disiarkan di ABC, CBS, FOX, NBC, The WB, dan UPN untuk mengumpulkan dana bagi orang-orang yang terkena dampak Badai Katrina.
Grohl menghindari lisensi musik Foo Fighters untuk iklan (selain dari satu iklan bir Jepang). "Ini seperti patah hati ketika saya mendengar lagu klasik yang mengubah hidup saya dalam iklan mobil," katanya kepada Newman dari Billboard . "Integritas sangat berarti bagiku. Semua hal yang kita pertahankan selama sepuluh tahun terakhir, aku jaga dengan hidupku." Grohl tetap menjadi anak poster anti-grunge yang pasti. "Saya sudah membahas banyak hal, tetapi saya masih merasa seperti orang yang putus asa berusia 17 tahun," kata Grohl kepada Spin. "Semangatku masih muda." Adapun fans yang mungkin khawatir tentang akhir Foo Fighters, Leah Greenblatt, "Saya telah berkeliling dunia sejak saya berusia 18 tahun, dan setelah setiap catatan saya selalu berpikir, Oke, setelah ini saya akan melanjutkan kehidupan nyata dan memulai sebuah keluarga dan menjadi gemuk dan botak. dan melakukan semua hal yang dilakukan semua orang setelah mereka selesai berkeliaran. Tapi, aku tidak berpikir aku sudah selesai berkeliaran. "
Diskografi yang dipilih
Foo Fighters , Roswell / Capitol, 1995.
Warna dan Bentuknya , Roswell / Capitol, 1997.
Tidak Ada yang Tersisa Untuk Kalah , Roswell / RCA, 1999.
Satu demi Satu , Roswell / RCA, 2002.
Dalam Yang Mulia , Roswell / RCA, 2005.
Sumber-sumber
Periodikal
Alternative Press , Juni 1997.
Bisnis Hiburan , Februari 2000, hal. 7
Billboard , 3 Mei 1997; 17 Mei 1997; 16 Oktober 1999, hal. 14; 27 November 1999, hal. 83; 19 Oktober 2002, hal. 10; 11 Juni 2005, hal. 43.
Entertainment Weekly , 9 Mei 1997, hlm. 38; 23 Mei 1997, hal. 62; 5 November 1999, hal. 82; 25 Oktober 2002, hal. L2T8; 25 Oktober 2002, hal. 75; 17 Juni 2005, hal. L2T8.
Dunia Gitar , Juli 1997.
New York Times , 18 Mei 1997.
Permintaan , Juli 1997.
Rolling Stone , 5 Oktober 1995; 21 Maret 1996; 29 Mei 1997.
Spin , Juli 1997.
United Press International, 27 Mei 2003.
Kami , Juli 1997.
Washington Times , 14 Juni 2005, hlm. B5; 12 Okt 2005, hal. B5.
On line
Grammy.com, http://www.grammy.com/awards/ (4 Januari 2006).
"In Your Honor," All Music Guide , http://www.allmusic.com (4 Januari 2006).
Pejuang Foo Resmi, http://www.foofighters.com (4 Januari 2006).
* quoted from http://www.notablebiographies.com/
Read more: http://www.notablebiographies.com/newsmakers2/2006-Ei-La/Foo-Fighters.html#ixzz5Pucuz282
Read more: http://www.notablebiographies.com/newsmakers2/2006-Ei-La/Foo-Fighters.html#ixzz5PubdQPAT