FOTO TERBAIK
     DAPATKAN HADIAH KEJUTAN PULSA SEBESAR 200.000
UNTUK KEBUTUHAN PULSAMU DISETIAP BULAN
BAGI 3 PHOTO TERBAIK 
                                   DISETIAP BULAN
4. APRIL ZONK
3. MARCH ZONK  
2. FEBRUARI ZONK
1
  =================================   JANUARI     =============   
                           MOMENT HOBBY KOMUNITAS UNTUK BULAN JANUARI INI ADALAH:
                                       SUPERMOON (31 JANUARI)
Pada Rabu malam (31/01/2018), jika cuaca cerah, Anda akan melihat Bulan yang berbeda dari biasanya. Penampakan tersebut adalah bagian dari fenomena alam yang disebut "bulan biru super darah". Anda dapat menjawab beberapa pertanyaan yang mungkin ada di benak Anda tentang dialog ini:
Gejala super blue blood moon ini merupakan kombinasi dari tiga hal, yaitu gerhana bulan,    terjadi pada penampakan bulan purnama kedua dalam satu bulan kalender, dan juga                                        ketika bulan di posisi terdekat dengan bumi.
Dinamakan 'super blue blood moon' karena peristiwa tersebut merupakan gabungan dari                                                tiga fenomena bulan sekaligus.
'Supermoon' karena Bulan akan berada pada jarak terdekatnya dengan Bumi (perigee), sehingga tampak 14% lebih besar dan 30% lebih terang dari biasanya.
Adapun 'blue moon' adalah julukan bagi purnama yang muncul kedua kalinya dalam satu bulan kalender.
  1.    QUOTED  :RONNY MUHARAM
 Sementara di Pekanbaru, gejala super blue blood moon terlihat cukup jelas dengan warna kemerahannya,
                                               seperti dilaporkan wartawan setempat, Rony Muharrman, untuk BBC Indonesia.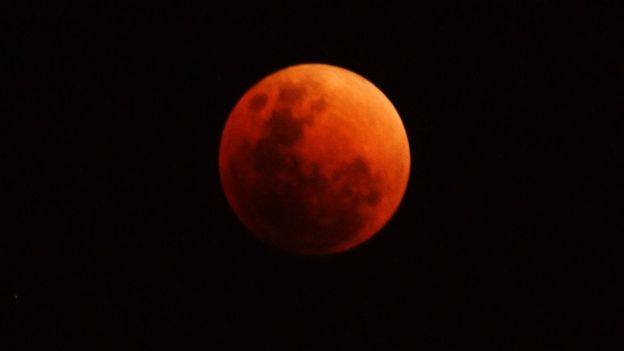 2.
       Sementara di Jakarta tidak terlalu jelas warna kemerahannya.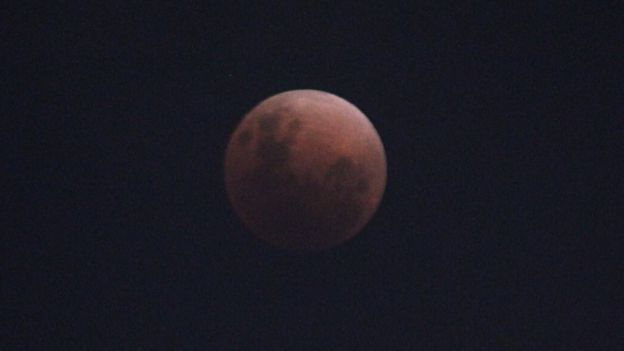 HOBBY.COM_unity
                                    See it! Super Blue Moon eclipse photos
1.  PEOPLE TAKE PHOTO FROM LANCELIN , AUSTRALIA  ( QUOTED FROM GETY IMAGES )
2. PHOTO TAKEN OF STATEN ISLAND FERY ,  SEEN FROM BROKLYN ( QUOTED FROM REUTERS )
3. TAKEN FROM  SQUARE BUILDING IN CROYDON  ( QUOTED FROM  PA )
4 .TAKEN FROM  AT  DOWNTOWN ,BEIRUT LIBANON ( QUOTED FROM  EPA )
5. PHOTO TAKEN FROM  US WEST COAST ( QUOTED FROM  GETTY IMAGES )
6 . PHOTO TAKEN FROM SAKHALINKS ISLANDS IN RUSSIA 'S FAR EAST  QUOTED FROM GETTY IMAGES )
7. PHOTO TAKEN FROM  GRIFFITH PARK IN LOS ANGELES , CALIFORNIA   ( QUOTED FROM AFP / GETTY IMAGES )
8. PHOTO TAKEN FROM JAKARTA , INDONESIA    ( QUOTED FROM  AFP/GETTY IMAGES )
9. PHOTO FROM GALLATA TOWER ISTANBUL , TURKY (QUOTED FROM GETTY IMAGES )
10. SAKHALINKS ISLAND IN RUSSIA  FAR EAS  ( QUOTED FROM  GETTY IMAGES )
11 .PHOTO TAKEN FROM  PARTENON  AT THE ACROPOLIS  HILLS , IN ATHENS ( QUOTED FROM  EPA )
12 . PHOTO  TAKEN FROM  SAINT NICHOLAS KATEDRAL IN THE BLACK SEA PORT OF YEVPATORYA CRIMEA ( QUOTED  FROM REUTER )
It was a Blue Moon, a supermoon and a moon in total eclipse. EarthSky community members around the world came through as always with awesome photos.
14 . George Preoteasa said he caught the very early partial eclipse from New York City, just before clouds intervened.
21. Annie Lewis menulis, "Malam ini terbit di siang hari. Madrid, Spanyol."
Intinya: Foto dari seluruh dunia pada 31 Januari 2018, Blue Moon, supermoon, dan gerhana bulan total! Terimakasih untuk semuanya
yang dikirim!